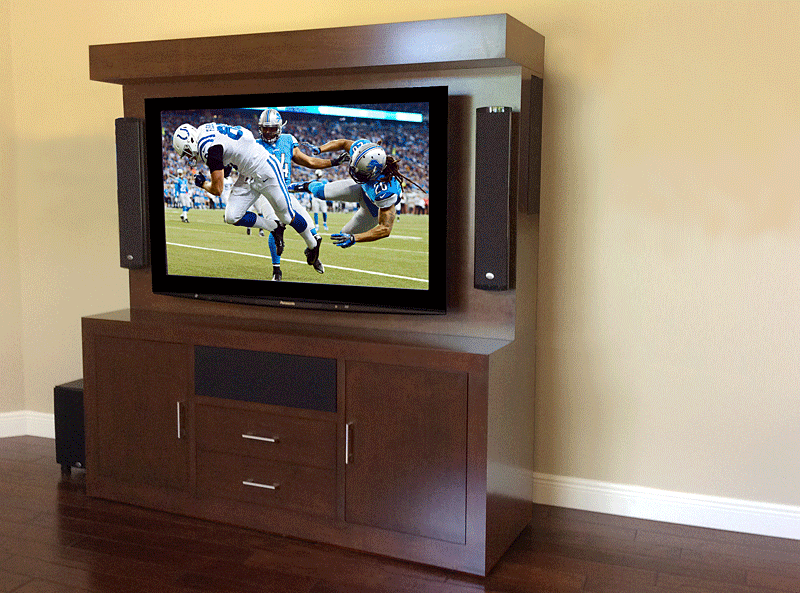 Triple Play™ – Multi TV Wall Units
Efficiently organize multiple TVs in a compact wall unit.
The Triple Play entertainment center can accommodate up to 5 TVs.
Born from necessity, The Triple Play™ is the ideal combination of good looks and home entertainment. It is the only way to enjoy multiple HDTVs yet maintain the beauty and grace of your home. It is decorator inspired and spouse approved.
Your large screen HDTV is proudly displayed as the center piece of the Triple Play™ wall unit. This main television is typically a 55-75″ set, however the Triple Play™ entertainment center can be customized to accommodate any size TV.
When you are ready to enjoy multiple TVs, simply slide the hidden side sets into view. The hidden TVs are the perfect way to enjoy multiple sporting events, news channels, stock tickers, security camera feeds, or video games. The side TVs are normally 32″ but can be customized to best fit your needs.
We offer two different slide out options; a shorter pull-out with one TV or a taller pull-out with two TVs. The pull-out columns can be added on one or both sides of the furniture creating the perfect multi-TV configuration for your room.
The Triple Play™ is the only entertainment center to organize up to five televisions in a single wall unit.
---
Photo Gallery of Triple Play™ Hidden Television Entertainment Centers
---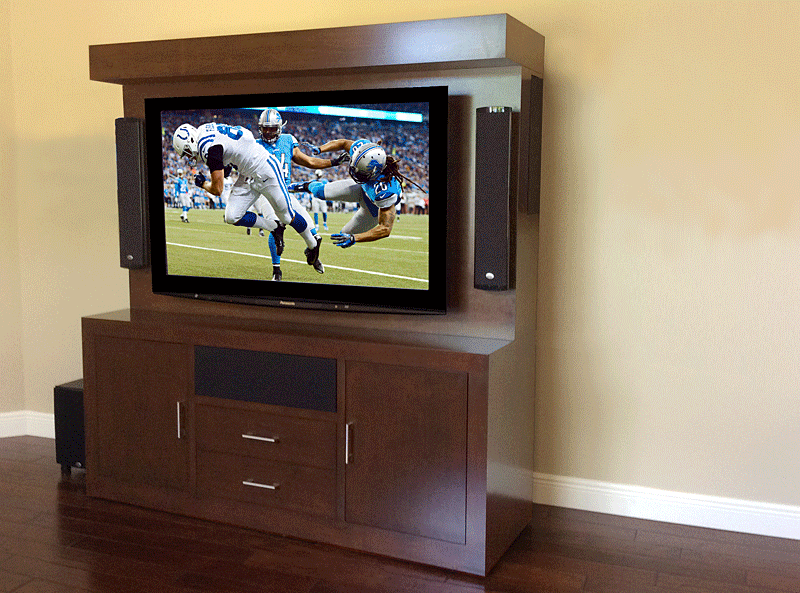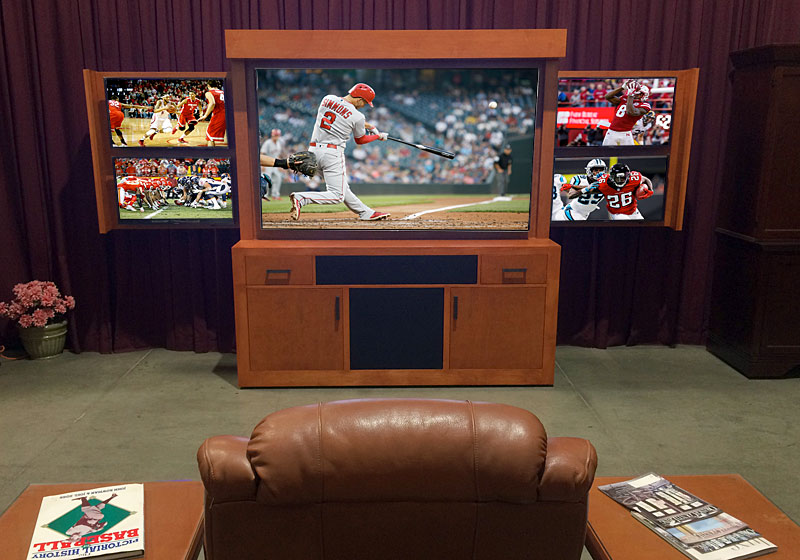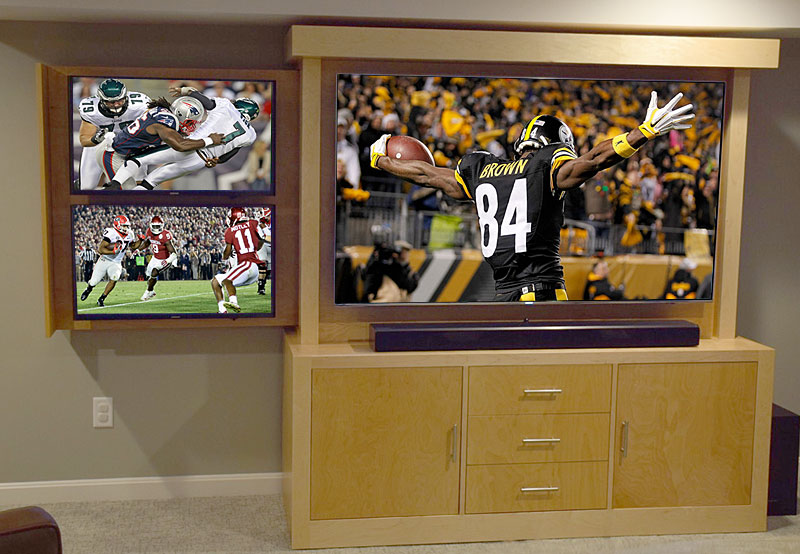 ---
Fully Customizable, Made in the USA
---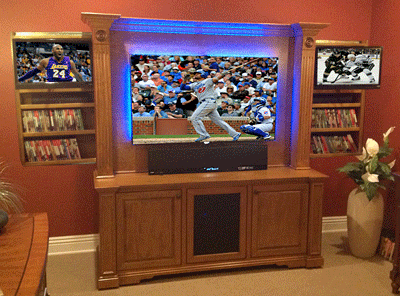 Each Triple Play™ home theater furniture system can be fully customized to suit your unique needs. You are able to choose the wood, color, and style that best fits your home decor.
We will also help you select and can provide the best electronics including choosing the right size televisions, best sound sound system, and options such as headphones or a single remote control system. We are very knowledgible and our prices are competitive.
All furniture systems are expertly crafted in California using the finest quality solid hardwoods and real wood veneers available. Our skilled craftsman put their expertise and experience into each entertainment cabinet ensuring your Triple Play™ is as durable as it is beautiful.

---
Advanced Home Theater Features
---
The functionality of each Triple Play™ entertainment cabinet is an excellent reflection of Diamond Case Designs, Inc. award winning background and professional design. Each home theater furniture system is packed with a host of features that make set-up, access, and organization a breeze.
All Triple Play™ wall units ride on our exclusive hidden wheel system. These unique poly-eurathane wheels are concealed out-of-sight behind the base moldings yet allow the furniture to easily be rolled away from the wall. The removable back panel can quickly be unscrewed and set aside providing full access to load and wire your electronics. Your home theater components will be installed efficiently and accurately as you work from behind where you can clearly see and make your connections.
Ventilation is improved via an internal air chimeny that is created by providing sufficient space behind the component shelves. This void space facilitates air movement by allowing warm air to rise and escape the furniture. The air chimney is also ideal for cable management as wires can be routed from shelf to shelf or section to section without having to be threaded in and out of holes in the back panel. Because the cables can be freely managed internally, shorter lengths can be used and any excess cable can be neatly organized.
Additional performance features include height-adjustable shelves, high-capacity media storage drawers, special acoustically transparent speaker cloth, and a personalized nameplate.
Your Triple Play™ can be further customized with optional features that include thermostatically controlled whisper fans, built-in surge supressors, and remote controlled LED lighting.






Each Triple Play™ entertainment center is full of advanced features to make the set-up and organization of your home theater a breeze.
---
Electronic Packages Available
---
In addition to being furniture experts, Dave and I are also electronic experts. We are fully-authorized dealers for all major brand televisions and electronics. We would be happy to recommend a complete home theater package that included the TVs, brackets, speakers, electronics, and even a single, simple remote control. Yes, it is possible to have a single remote control operate all TVs! Our knowledge and customer service is fantastic and our prices are competitive.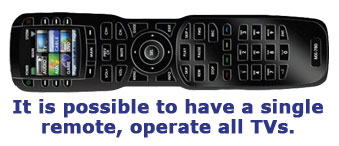 ---
More Information / Pricing / Free Estimates
---
The base price of a standard Triple Play™ multi-TV entertainment center is $5999. However, each Triple Play™ is made-to-order allowing us to fully customize it to fit your unique style, taste, and dimensions. In addition, to the custom options we also offer fantastic electronic packages. Please call me (Steve Hartfelder) or my brother Dave at 714-630-8100 or 800-616-5354. We will be happy to answer all your questions and provide a free estimate of a fully customized Triple Play™ home theater system.
We are also available via e-mail at sales@diamondcase.com.